SUN SHIELDS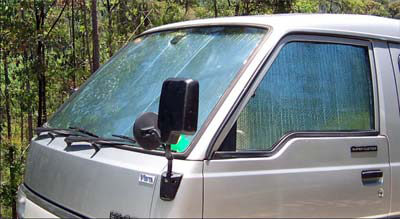 For Campervans, Motorhomes, 4 Wheel Drives, Bus Conversions, Trucks, Boats and Aircraft

Manufactured from cellular air pockets laminated both sides with reflective foil and finished with binding tape and attach mechanisms where required; our sun shields are strong, durable and thermo reflective.
Advanced thermal performance in achieved because air trapped in the cells between the layers of foil acts as a heat buffer. Additionally, the reflective foil deals with 97% of the radiant (infrared) heat by reflecting it back into the atmosphere. Our reflective sun shields address 100% of the UV light that damages your upholstery, fabrics and fittings.


Top Gear 2 Go

has on file a large range of standard patterns for recreational vehicles. We can custom make sun shields for non-standard or unique requirements. All you need to do is make a paper template; it's easy. Let us show you how - click here
To obtain a price and place an order on standard patterned Sun Shields, Enter Details here
For a quotation on non-standard Sun Shields, please send us an email.